2022 CANR Alumni Association scholarship recipients announced
The College of Agriculture and Natural Resources Alumni Association awards scholarships to students who are well-rounded in their academic and non-academic pursuits and have a vision for their future career.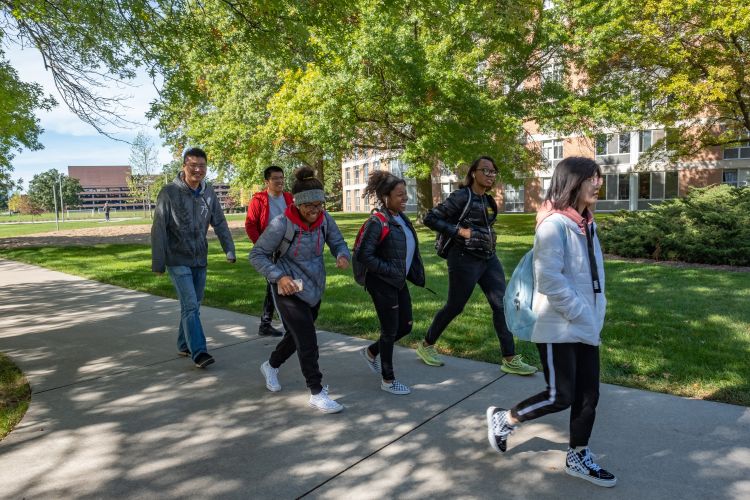 Each year the MSU College of Agriculture and Natural Resources (CANR) Alumni Association awards scholarships to students who demonstrate leadership and community service, possess effective communication skills, have a commitment to their chosen field of study, are well-rounded in their academic and non-academic pursuits and have a vision for their future career.
This year, two sub-committees met virtually to review scholarship applications for undergraduate students, graduate students and Institute of Agricultural Technology (IAT) students. The applicants selected were invited to move forward and participate in virtual interviews. The committees chose to award nine scholarships to CANR juniors and five scholarships to CANR graduate students.
The CANR Alumni Association raises funds for these scholarships through alumni activities, as well as gifts from individuals. To support the CANR Alumni Association Endowed Scholarship Fund, please visit: https://givingto.msu.edu/gift/?sid=8188.
Congratulations to the 2022 CANRAA scholarship recipients:
Graduate

student scholarship recipients
Chelsie Boodoo is a doctoral candidate in the CANR Department of Biosystems and Agricultural Engineering. In addition to her Ph.D. research on developing a DNA-based biosensor for swine fever viruses, Boodoo is involved in a wide array of other academic, social, and artistic interests that further the goals of MSU both on and off campus. Some examples include serving as a coordinator for the Global Alliance for Rapid Diagnostics (GARD), a student leader with the Association of Public and Land-Grant Universities Commission on Economic and Community Engagement, supporting the MSU Science Festival as Digital Content Producer, founding and co-hosting The Sci-Files with Impact 89 FM, 500 Women in Science East Lansing Pod Leader, and involvement in science art for public audiences. Her aspirations after graduation are to continue her work with GARD on international biosecurity and society inequities in the fight against sickness, which would also allow her to use her science communication experience. In the long run, she would like to have a career that utilizes her knowledge and experience to impact diverse communities through science communication.
Growing up on a dairy farm, Kirby Krogstad has a vision and passion to improve the dairy industry through his research and beyond that with her leadership qualities. Krogstad graduated summa cum laude with a bachelor's degree in dairy production from South Dakota University and earned a master's degree from the University of Nebraska in animal science with his thesis on the Effects of NDF digestibility on Lactating Jersey Cows: Observed and Modeled Performance. He is expected to graduate in December 2023 from MSU with a Ph.D. in animal science from the Department of Animal Science where his research focuses on dairy nutrition and health. Beyond research and education, Krogstad has excelled in leadership roles and community service including various roles in different organizations as treasurer, fundraising chair, graduate student assembly representative, FEW Graduate Research Scholar and a baseball coach. He is involved with numerous professional organizations and has taken on numerous teachings and tutoring. After graduation Krogstad's goal is to become a professor, assist new students and to continue his efforts in dairy sustainability and improving dairy cow health and welfare. He also cites the importance of service to the community and commitment to offer his insight on research to farm families. Ultimately, he desires to create a foundation and scholarship fund to help other students succeed in further education.
Emily Liljestrand is a Ph.D. student working with Dr. James Bence at the MSU Quantitative Fisheries Center. Liljestrand studies fisheries stock assessment and population dynamics models and applies that knowledge to evaluate how management strategies may be influencing long-term sustainability in fisheries. She is active in the graduate student organization in the Department of Fisheries and Wildlife and the Ecology, Evolution, and Behavior (EEB) Program. Liljestrand enjoys volunteering her time as an instructor during the Girls Math and Science Day and Girls STEM Day at MSU where she strives to get kids "hooked" on fisheries science. The "Fish in a Box" activity, developed by Emily, was an innovative and engaging way to teach youth how to estimate population size using the mark and recapture technique. She is a role model and aspires to cultivate the next generation of natural resource scientists.
Diana Pacyga is a Ph.D. candidate in the CANR Department of Food Science and Human Nutrition. She has received multidisciplinary training in the fields of nutrition, toxicology, reproduction, epidemiology and biostatistics. Her ultimate career goal is to become an independent academic researcher at a renowned research institution. Pacyga's drive and pursuit of excellence will aid her in becoming a prominent perinatal epidemiologist and environmental health researcher assessing the impact of diet and the environment on maternal and offspring life-long health. She has generously supported several of her fellow peers by providing knowledge and experience throughout her educational endeavors, as an active volunteer, committee member and graduate research assistant. Her ability to simultaneously be president of the department's Graduate Student Association, Student Representative of the College Diversity, Equity and Inclusion Committee, Student Representative of the Departmental Graduate Affairs Committee, Social Media Chair, and a professional member of the Society of Toxicology, International Society for Environmental Epidemiology, and the American Society for Nutrition showcases her robust leadership skills and determination. Through her numerous publications, presentations, outstanding research and workshops, she is a strong force within our Spartan community.
Ashley Wright is a Ph.D. student in the CANR Department of Plant, Soil and Microbial Sciences majoring in plant breeding, genetics, and biotechnology with a focus on resistance breeding in strawberries. Her passion for agricultural sustainability is only overshadowed by her absolute love of strawberries. Her long-term goal is to release varieties of strawberries with resistance built into the plant to reduce the environmental impact of the berry. She also has goals of continuing to help with the successful launch of an international online certificate course title "Plant breeding to Fight Hunger." She plans to take this experience merged with her plant breeding knowledge and her experience in college teaching to develop accessible course content for breeders worldwide. Her precise approach to scheduling time, problem-solving and attention to detail will easily allow her to set many goals and accomplish them.
Undergraduate j

unior

scholarship recipients
Mikayla Bowen, of Addison, Michigan, is an animal science major in the Department of Animal Science with a dairy concentration and a minor in agribusiness management. Bowen is active in the MSU Dairy Club, Dairy Challenge and is also a member of the Dairy Judging Team. She is passionate about animals and agriculture and was an active 4-H member in Hillsdale County where she held numerous leadership roles. Bowen is, and hopes to continue to be, a key part of Michigan's dairy industry.
Emma Brinks is currently pursuing a bachelor's degree in horticulture in the Department of Horticulture with a minor in writing. She is part of the Residential Initiative on the Study of the Environment (RISE), a member of the Honors College, and carries a very high GPA. Brinks also balances an active presence in many on campus including the Student Horticulture Association (SHA) where she is an officer and the spring show grower. She has also participated in multiple networking and career development events through her involvement in the SHA as well as organizing weekly meetings and volunteer activities which include industry leaders. Summer internships and many hands-on learning experiences are preparing Brinks for her long-term goal of owning and managing a nursery of her own that focuses on native plants and natural ecosystems.
Madelyn Cary is an agribusiness management major in the Department of Agricultural, Food, and Resource Economics (AFRE) with a passion for agriculture and has a great work ethic. Cary balances a strong GPA with being extremely active in several organizations on campus at MSU, including National Agricultural Marketing Association (NAMA) and the Collegiate Farm Bureau where she holds officer positions. Her professors will tout that she is a joy to be around, and her work ethic is infectious. She has been very active in supporting incoming students, taking time to share her experiences, provide resources, and make new students feel welcome. This positive attitude and willingness to contribute to the betterment of her fellow students are precisely what makes her such a strong candidate for this scholarship. Her long-term goals are to further her education and possibly return to the family farm someday.
Andrew Deleruyell is a forestry major in the Department of Forestry from Dexter, Michigan. Deleruyell is vice president of the MSU Forestry Club and an active member of the MSU Student Greenhouse Project. Deleruyell is passionate about his TimbuR software program, which is used by the USFS National Volume and Biomass Estimator Libraries. He is hoping to release a second version that will be used in Central and South America. After graduation, Deleruyell plans to move to Detroit to work as a tree care expert with a private company. He is hoping to further his career by becoming an ISA certified arborist. His long-term goals include making conservation something that everyone will want to eagerly participate in. Deleruyell's enthusiasm, passion and talents will help him to be a future leader in the field of forestry.
Rachel Drobnak, of Olmsted Township, Ohio, is a crop and soil science major in the Department of Plant, Soil and Microbial Sciences (PSM) with minors in Spanish and environmental and sustainability studies. She is involved with RISE, MSU Agronomy Club, Student Associate at University Lutheran Church, the PSM Diversity, Equity and Inclusion (DEI) Committee, is a carillonist at Beaumont Tower, and has served as a professorial assistant under Dr. Isaacs. Drobnak particularly emphasizes the Spartan community and culture as being a big part of her positive experience and believes this scholarship is an investment in her future. Whatever career path she follows, she would like to be the bridge between consumers, the community and farmers.
Lauren Emerick is a fisheries and wildlife major in the Department of Fisheries and Wildlife whose passion lies in resolving human-carnivore conflict. Emerick is excited to share this passion and knowledge and help people understand how their interests and those of the large carnivores are intertwined. Emerick has been extremely active in undergraduate research, both in the field and also analyzing field data, with a number of MSU labs. In her spare time, she is active in both the MSU Outdoor Club and the Fisheries and Wildlife Club. After graduation, Emerick plans to pursue graduate degrees focused on her passion studying carnivores.
Sarah Hubbard, of Attica, Michigan, is an environmental studies and sustainability major in the Department of Community Sustainability with a minor in sustainable agriculture and food systems. Hubbard is an undergraduate research assistant with Dr. Hodbod in the Hodbod Lab for the project: Values and adoption in regenerative grazing practices and associated wellbeing outcomes for cow-calf producers. She is involved with RISE, Spartan Sierra Club, MSU Bug Club, has been the farm manager for the Bailey Greenhouse and Urban Farm. Her dream job would involve research, extension, and teaching as she believes that is where the change happens. Hubbard also strongly values participatory research in communities.
Elizabeth Litwin, a fisheries and wildlife major in the Department of Fisheries and Wildlife, exemplifies the student athlete at Michigan State University. She has excelled in the classroom, the field and as an archer on MSU's Archery Team. Litwin's dream job is to help the National Park System to re-imagine their mission, including an increased focus on indigenous peoples' relationships to the parklands. Litwin has excelled in academics and been active in undergraduate research, extracurricular activities and supported her sport, archery, in myriad ways. We look forward to hearing her storytelling at a National Park in the near future.
Lauren Sawyer Is an environmental studies and sustainability major in the Department of Community Sustainability from southwest Michigan. She is active in the Spartan Sierra Club, Student Sustainability Leadership Council, MSU Honors College, Baily Hall Government, and University Committee on Undergraduate Education. After graduating, she would like to go on and work for an environmental consulting firm, where she can assist community members with environmental issues impacting their lives. Her long-term goals include working to promote conservation and environmental policy at the federal level. Sawyer's knowledge, organization, and her instincts about environmental research, have brought her numerous accolades from her professors as well as her internship managers.
Learn more about the CANR Alumni Association scholarships at: https://www.canr.msu.edu/alumni/alumni/anr_alumni_association_scholarships.