Delisa Scholarship supports students interested in water research and sustainability
Sally Delisa, '64 elementary education, established an endowed scholarship in memory of her husband, Robert Delisa, '64 social science, for students interested in water research and sustainability.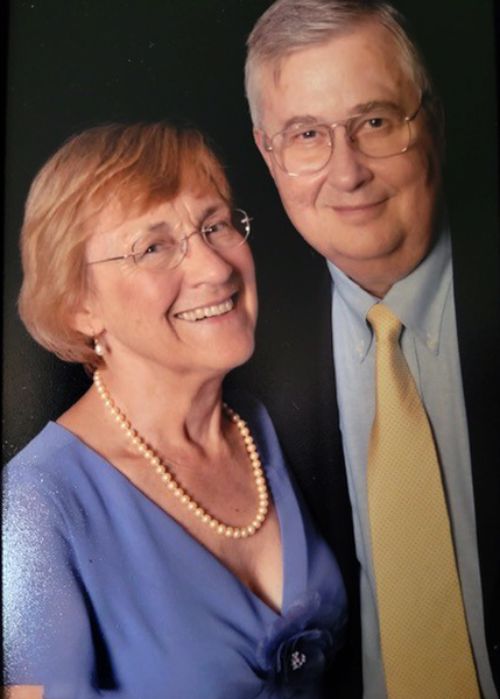 Michigan State University (MSU) is dedicated to developing science-based technology, research, educational programs and partnerships to help understand and address critical water issues.
"Water is critical for everything — we cannot live without water and there is not a substitute," said Steven Safferman, Ph.D., graduate program director for the MSU Department of Biosystems and Agricultural Engineering. "This importance is becoming more recognized with climate change because of its impacts on water quantity and quality. Encouraging students to obtain their undergraduate and/or graduate degree(s) in water research and sustainability is critical for societal challenges."
To support this need, MSU alumna Sally Delisa created the Robert J. Delisa Scholarship Fund at MSU in memory of her husband, Bob Delisa, and his love for water. The endowment provides scholarships for College of Agriculture and Natural Resources (CANR) undergraduate and graduate students interested in water research and sustainability.
"Every study that helps us understand water — fresh and salt water — helps to make a positive impact whether locally, nationally or internationally," Sally Delisa said. "I wanted the scholarship to support water because water is a natural resource in crisis."
According to Safferman, the Delisa scholarship is important for CANR because it reinforces overarching college themes of water and sustainability. He also says the Delisa scholarship not only helps our students financially but also rewards students pursuing a career to solve related challenges, ultimately recognizing their current and future contributions to critical societal needs.
Since its establishment in 2020, seven students have received the Delisa scholarships to further their education and research in water. Biosystems Engineering senior Gregory Rouland was one of the 2021-22 scholarship recipients.
"Receiving the Delisa scholarship meant a lot for both me and my parents who helped me pay for college. Receiving a scholarship such as this one can not only save money, but it can also reduce stress and allow students to focus more of their energy on coursework and jobs," Rouland said. "I also believe that scholarships like the Delisa scholarship that are meant for students working in fields such as water and sustainability help to reinforce how important specific fields are. It shows students like me that there are people who value the hard work we put in and how important water sustainability is for our future."
"Scholarships like this with a specific focus are enticing, specifically because the work I am already doing allows me a chance to be a candidate for this more limited opportunity," Rouland added. "I originally wanted to focus on a biomedical track for my future career. It wasn't until I started working with Dr. Safferman that I began to realize how interesting and important water and sustainability truly are. The work I do now and in the future will allow me to contribute to preserving the world for future generations and improving the quality of life for others."
Appreciating aquatic past times
Growing up in Schenectady, New York, Robert "Bob" Delisa spent a lifetime on the water and enjoyed teaching his great niece and great nephews how to swim. As a kid, his family regularly vacationed on freshwater lakes in New York and at times, along the New Jersey shores. As an adult, he expanded his water activities to include Michigan's freshwater lakes and the Atlantic Ocean. He loved boating, fishing, swimming and snorkeling — he even took a scuba course in his undergraduate years at MSU.
Sally Delisa grew up in Clarkston, Michigan, where she was a member of Oakland County's Seymour Lake 4-H Club and learned life skills through her various 4-H projects: sewing, cooking, canning, conservation, sheep, electricity, wildflowers, birds and trees. She visited MSU many times as a youth for 4-H events and her older sister attended MSU.
"I always knew I wanted to go to Michigan State," Sally said.
Sally first enrolled at MSU as a non-preference major, but soon found an interest in elementary education and speech therapy. In 1964, she earned a bachelor's degree from MSU in elementary education and later earned a master's degree in communication disorders with a specialization in language from Southern Connecticut State University. Sally and Bob first met on a blind date during their years at MSU.
Bob earned his bachelor's degree in 1964 from the MSU College of Social Science and took advanced courses at the University of Arizona. He served as U.S. Air Force Missile Crew Commander from 1966 to 1971 stationed in Tucson, Arizona, came back to Michigan and later transferred to the east coast. He then moved to work at Aetna Life and Casualty in Michigan, Connecticut and Massachusetts. He retired as director of claim operations for the Massachusetts Inter-Local Insurance Association (Hastings-Tapley) in Cambridge, Massachusetts. Sally started her career as a school speech therapist in Tucson and spent her last 21 years at Duxbury Public Schools in Massachusetts.
Living only two miles from the ocean for many years, Bob and Sally regularly enjoyed boating and fishing on the water. Over time, they noticed changes to the ocean floor. The couple began learning about water and conservation issues such as PCBs (polychlorinated biphenyls) in freshwater fish.
"We would fish and eat the fish we caught," Sally said. "It started looking like a desert below the water because the seaweed was gone. We would have to go farther and farther out to catch fish. We found out that due to unsustainable commercial fishing practices, dragging had destroyed the natural fish habitats."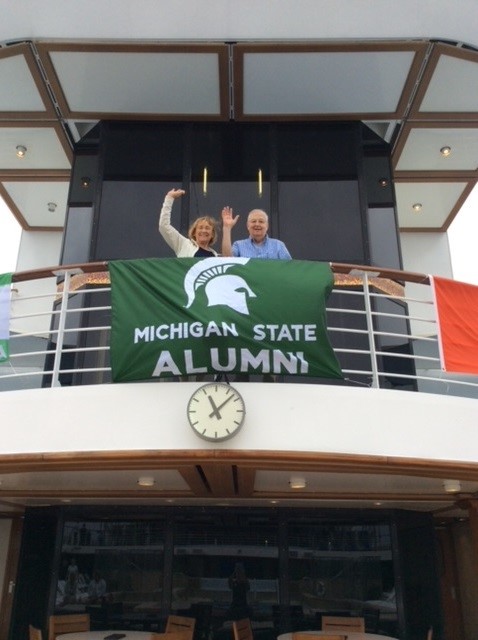 Their water education continued during an MSU alumni cruise in Tahiti when they encountered dead coral. They also learned about water shortages and poor water quality in developing countries and people losing their homes due to the rising sea levels.
Just prior to Bob's death in 2018 while vacationing in Michigan, Sally and Bob had been talking about water. Sally recalled the conversation, "All of a sudden Bob said, 'I know what I want my scholarship to be for. I want it to be for water because water is a natural resource in crisis and it's only going to get worse. That's where I want this scholarship to be earmarked.'"
Bob had been wanting to create an endowed scholarship at MSU but couldn't quite decide what to support. Following Bob's death, Sally worked with university staff to make his wish come true and finalize the endowment to support water.
"I think it is a tribute to Michigan State that Bob wanted to create a scholarship at his alma mater," Sally said. "It is such a fitting tribute to Bob because of his love of the water and his activities."
All undergraduate and graduate students in the College of Agriculture and Natural Resources are invited to apply for a Delisa Scholarship. Applications from several CANR departments have been received in previous years with diverse interests, ranging from engineering to sociology. Recipients must demonstrate substantial financial needs and a planned career dedicated to improving society by working on topics involving water and/or sustainability. Applications are available in February and due in March of each year through the CANR Scholarship Application. To learn more about the scholarship or apply, visit https://www.canr.msu.edu/academics/undergraduate/scholarships.