MSU to study precision livestock farming adoption trends in U.S. swine industry
Animal science researcher Janice Siegford will examine how agricultural technologies can help farmers, consumers and animals.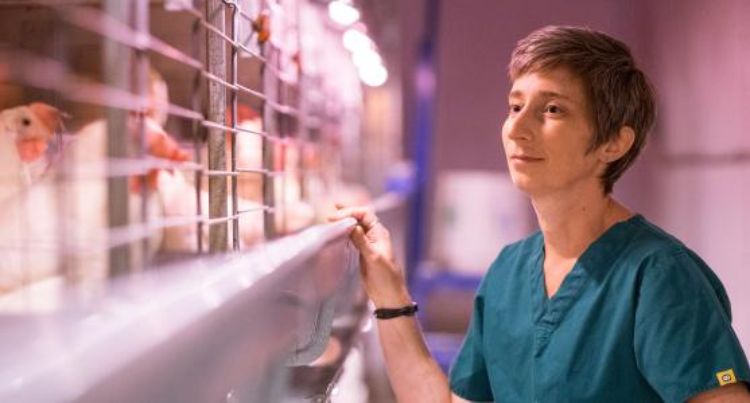 Michigan State University (MSU) Department of Animal Science researcher Janice Siegford is leading a team of researchers and extension agents recently awarded a $1 million USDA-NIFA Agriculture and Food Research Initiative grant to study the advancement of precision farming in the U.S. swine industry.
Beginning June 2021, the group will start to explore precision livestock needs, public perceptions and the willingness of farmers, producers and consumers to pay for new technology. The end goal is to determine how new technology is viewed by the swine industry at large, with respect to what is practical and useful for farmers and consumers.
"One of the things that often occurs when researchers work with precision livestock farming is we get really fascinated by all the cool bells and whistles of the technology," Siegford said. "We sometimes lose sight of the fact that these processes have to actually go on a farm to be practically used by farmers and be something they can afford. Our focus is to really understand, from the human perspective, what is useful and how valuable the technologies and processes are in reality."
To achieve this, the team has established a stakeholder advisory group to bounce ideas off.
"Everybody from big swine breeding companies, who really want to mine this data to help precisely breed and select pigs, to companies like retailers and grocers, to auditing groups that certify animal welfare [are involved]," she said.
"We are going to bring together these partners and ask them what precision livestock farming can do for them. How they can use technology and the data it generates for the aspect of the pork industry that they're involved with? What they think are some of the valuable attributes that they'd like to see developed into technology. And we want to make sure that where farmers invest their money is useful to them as well as results in a product that consumers are OK buying."
To fully understand the benefits and drawbacks of precision agriculture, they will focus on two priority areas, according to Siegford:
Maintenance of a productive workforce. Livestock farming technology can replace some labor on the farm, including technology to do repetitive work and do it in more detail, but is nowhere near enough.
Acquisition of reliable animal health data. An ongoing pressure for the animal agriculture industry to better monitor the welfare of the animals and show that progress. Precision agriculture allows farmers better data on the health of each animal.
"When I think about precision livestock farming, what I'm talking about is the kind of technology that can help us keep track of an animal as an individual," Siegford said. "In order to optimize that individual animal's performance and also its welfare, we're thinking about things that happen at the level of that one animal in real time, collecting the data from that animal, and then processing it to tell us what it means and what actions to take."
MSU will partner with North Carolina State and Iowa State, in key U.S. pork producing states, as well as Scotland's Royal College, which has been conducting social science research with producers in the United Kingdom related to on-farm issues related to precision livestock farming. Other collaborators represent MSU Animal Science researchers and extension educators Dale Rozeboom, Juan Steibel, Madonna Benjamin, Dave Thomas and Casey Zangaro.
Ultimately, precision agriculture adoption boils down to cost. Siegford said she hopes this study will provide context on what the industry holds valuable.
"For producers, precision agriculture can be a heavy cost investment and sometimes because technology moves so rapidly, it can be really hard to decide what to invest in that's still going to be around in five years," she said. "So, we hope to get a clear picture from farmers about their driving needs and what they see as important. "
The National Institute of Food and Agriculture (NIFA) awards AFRI research, education, and extension grants to improve rural economies, increase food production, stimulate the bioeconomy, mitigate impacts of climate variability, address water availability issues, ensure food safety and security, enhance human nutrition, and train the next generation of the agricultural workforce.